Funding award: Distracting effects of light and sound on human performance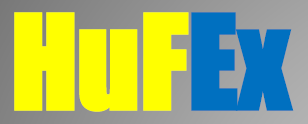 Following a MOD-Sponsored Competition, HuFEx at the School of Psychology, Cardiff University has been sub-contracted by BAE Systems (Operations) Limited to carry out a project – Distracting effects of light and sound on human performance. The 4 month projectwill be delivered in conjunction with BAE Systems as part of the Defence Human Capability Science and Technology Centre (www.defencehumancapability.com).


This project, involving a collaboration with scientists in
BAE Systems - Applied Intelligence Laboratories
and
The Netherlands Organisation for Applied Scientific Research
, started in April 2018 and represents an early success for HuFEx in its aim to conduct top quality research in collaboration with external partners


Recent Conference Contributions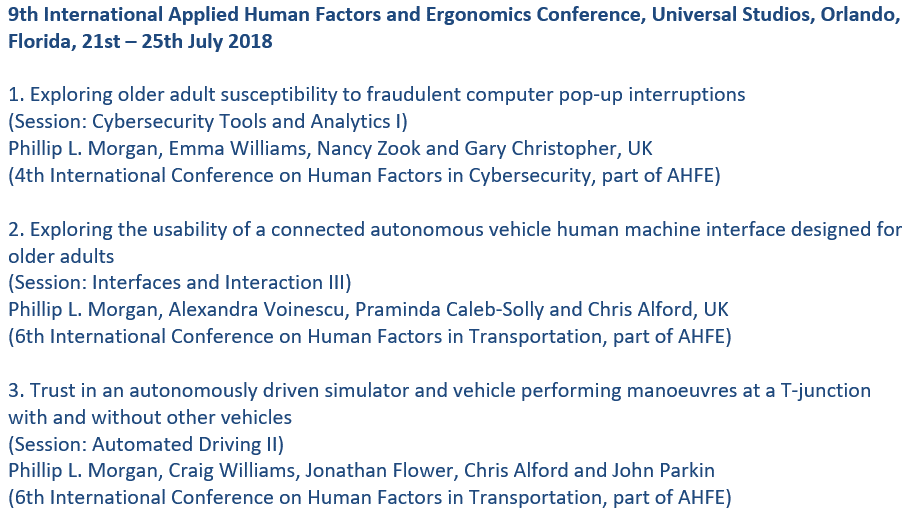 News: HuFEx launch report
We were delighted to host our first Human Factors Excellence (HuFEx) Collaboration and Networking Event within the School of Psychology at Cardiff University on the 15th - 16th Jan 2018. We were pleased to welcome 18 external organisations (Airbus, Atkins, BMT Defence, Cardiff & Vale NHS Trust, Environment Resource Management, General Dynamics UK, Trimetis, South Yorkshire Fire & Rescue, QinetiQ, Transport Research Laboratory, Healthcare Safety Investigation Branch, Velindre Cancer Centre, Thales, Tarian Cyber Crime Unit, Information Point, Welsh Government, Swansea University, University of the West of England - Bristol) with over 25 delegates as well as 30 Cardiff University HuFEx members. Day 1 consisted of an array of excellent and thought provoking presentations relating to our five current themes (Defence and Security, Design of Internal & External Spaces, Emergency Services, Healthcare and Patient Safety, Transport & Intelligent Mobility) - including a talk by Professor Dylan M Jones OBE (Cardiff University, School of Psychology) focussed on almost 60-years of world leading Human Factors research at Cardiff University. Day 1 was rounded off by a poster session and delightful networking dinner at the Park Plaza hotel (Cardiff). Day 2 was focussed on activities designed to identify and harness collaboration opportunities and pathways to impact. The event was supported by an ESRC Impact Acceleration Award and extra funding from the School of Psychology at Cardiff University. We are already planning the next event which should take place during the summer/autumn 2018.
For further information about HuFEx (including enquires about becoming a member or affiliate) - contact HuFEx Directors: Dr Phil Morgan (morganphil@cardiff.ac.uk) and/or Prof Bill Macken (macken@cardiff.ac.uk) or find us on LinkedIn
HuFEx launch event: Preliminary headline summary
HuFEx was officially launched on January 15-16 in the School of Psychology, Cardiff University (see previous post below). This post is to provide an initial, headline summary of the event and its outcomes
First, we would like to thank all that attended and contributed to the event including those that gave talks and presented posters/banners. These were incredibly insightful and we can already see so many synergies between your organisational aims and capabilities and what we are aiming to achieve as HuFEx across the current five themes: defence and security, design of internal and external spaces, emergency services, healthcare and patient safety, and, transport and intelligent mobility.
Second, the degree of engagement during breaks, lunches, the poster session, and the event dinner was more than we could have ever hoped for. So many ideas emerged during these periods and we are working hard to try and consolidate them. Many of the visiting organisations have contacted us since and there are already at least half a dozen ideas being explored and taken forward.
Third, we are so pleased with how engaged everyone was with the 'working together to build upon capabilities & opportunities' central theme on day 2. The partner posters and collaboration and impact brainstorming activities resulted in even more ideas and data with a key focus on pathways to impact, collaboration, funding and/or access opportunities for students and studentships (including placements and ways of supporting e.g., PhD students), and capabilities (e.g., access to kit, people, etc.). There is quite a lot of data to get through and we will be crunching, analysing, and interpreting it over the next few weeks. We will then get in touch with you all with a report on findings highlighting key areas relating to collaboration, impact, and support.
Fourth, we are also aiming to do a few more things over the next few weeks and would like to have your views on these:
1. Setting up a HuFEx LinkedIn group that we are all members off. Please let us know by 24th Jan 2018 if you are not keen to be included within such a group;
2. Creating a HuFEx emailing list so that we can all keep in touch in relation to things like collaboration opportunities, funding bids, post-graduate research studentships, placement student opportunities). Please let us know by 24th Jan 2018 if you are not keen to be included within such a mailing group/list;
3. Creating a slideshow of event activities to add to the HuFEx website. This will include e.g., a picture of the first slide of each talk, pictures of the day 1 poster session, possibly a picture off the networking dinner, pictures of the day 2 poster session, and pictures of the collaboration and impact brainstorming activities. The pictures will be carefully vetted and checked. Please let us know by 24th Jan 2018 if you are not keen to be included within such a slideshow;
4. In relation to (3), we are very keen to (i) include a slide at the end of the presentation with logos for all organisations that attended the event. Please let us know by 24th Jan 2018 if you are not happy for us to include your organisation logo on such a slide;
5. Also in relation to (3), we are very keen to (ii) build up a list of associate and partner organisations to the www.hufex.co.uk website. If you do not contact us by the 26th Jan 2018, we will assume that you are happy to be included as a HuFEx partner organisation (most were keen on this). Though please do let us know if you would prefer to be linked as an associate or not linked at all.
Fifth, we have already been contacted by a number of other external organisations who have heard about HuFEx and would like to be part of it. That said, we are happy to continue growing and further expand our network. Thus, if any of you have partner organisations (and/or other colleagues within your organisation) who you think might be interested in being part of HuFEx, then please do ask them to get in touch with us.
Finally, we are already brainstorming and planning follow-on HuFEx activities, including conference. We will keep you posted regarding these and very much hope that you will be able to join us again at these.
Thanks again to all who attended the first HuFEx at Cardiff University Collaboration and Impact Event. We look forward to continued engagement and fruitful partnerships and collaborations with you all.
HuFEx Launch, January 15-16, 2018
School of Psychology, CUBRIC Building, Maindy Road, Cardiff, CF24 4HQ
Human Factors Excellence (HuFEx) at Cardiff University comprises of a group of internationally renowned academics (including research staff and students) who specialise mainly in the areas of human factors, cognitive science, social and environmental psychology, developmental and health psychology, and neuroscience. We are mainly based with the world-leading School of Psychology (centre of excellence for psychology, psychiatry and neuroscience: overall 2nd – UK REF 2014) and have strong connections with aligned research networks and centres of excellence throughout the university (e.g., Human Factors Technology Centre, Centre for Occupational and Health Psychology, Transport Futures Network, Airbus Centre of Excellence in Cyber Security Analytics).

Cardiff University has a long history of successful human factors research, much of which has been based within or linked to the School of Psychology. Professor Dylan M Jones OBE and colleagues within the Human Factors Research Group attracted vast and regular funding (e.g., DRA/DERA/QinetiQ/Dstl, DIF-DTC, Digital Equipment Corporation UK, DTC, ESRC, EPSRC, EuroControl, Post Office, MoD, Smiths' Industries) to conduct hugely influential research projects in areas such as: design of human-machine interfaces, offices, workstations and command and control centres, air-traffic management, and developing immersive research environments



The HuFEx vision is to be a UK and global leading centre of human factors psychology excellence with internal and external partnership collaboration at the core of our ethos. HuFEx was established in 2017 to enhance our presence and connectedness with external partners through fruitful collaboration and identification of pathways to research impact. It was also developed in response to new and emerging technologies and challenges such as road vehicle automation and cyber security.. HuFEx has strong institutional support evidenced by a 2017-18 Economic Social Research Council Impact Acceleration Award (ESRC IAA) and additional support from the School of Psychology and the University.

HuFEx has five core themes linked to member specialist areas: defence and security (including cyber); design and use of internal and external spaces (including offices, external architecture, and, infrastructure); emergency services (including emergency medical services, fire and rescue, and, law enforcement; healthcare and patient safety (including emergency critical care, specialist treatment centres, and surgical environments); and, transport and intelligent mobility (including autonomous road vehicles).

Award-Winning Human Factors Research
6 June 2017
Research improving how fire service commanders tackle major incidents has won an award for innovation. Read more.
6 June 2017
An initiative for mental health service users has won an innovation award. Read more
Research carried out by Cardiff University on the causes of maritime fatigue was instrumental in increasing understanding of contributing factors such as long working hours, and the inadequacy of current reporting systems. Read more
People: Cardiff University HuFEx members